10 things you can do right now to help your kids with remote learning
Posted by

Date

January 17, 2021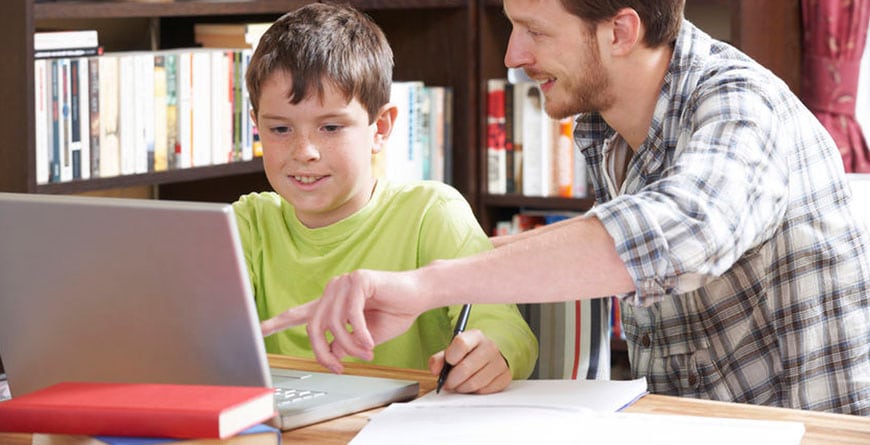 A mom of three has a daughter with Dyslexia, a self-motivated son, and another son who is quite the opposite. Each of her children has differing academic levels, motivation, and abilities to focus. She reviews their assignments after getting home from work and on the weekends. Her son tells her, "Mom, math is just not your stuff!" In a year, each of her kids will be expected to take the FSA. This major standardized test determines if they will go on to the next grade level. Virtual classrooms have increased the level of flexibility and access to education but parents are challenged to find a balance in dealing with this changing landscape.
Parents are increasingly taking on the role of teacher while still managing all their previous duties. Moreover, many parents report having too many resources at hand to support their kids while not being sure which one to use. Some of the major factors contributing to the effectiveness of remote learning are: intrinsic motivation, student relatedness, engagement, and accessibility. According to The Self Determining Theory of Learning, students' relatedness affects the level of intrinsic motivation that students feel during remote learning (Garbe et. al, 2020). This theory highlights the fact that student relatedness has an indirect impact on learning achievement. Finally, some parents have also noted concerns with keeping their kids engaged and motivated to learn. So, we have compiled a list of ten things parents can do right now to help their kids with remote learning:
1. Organize online resources.
Create a binder or folder for each child and keep track of assignments, online resources, learning objectives, and important timelines (Wiseman et. al, 2020).
2. Set up routines and systems.
Routinely check in one day out of the week and use the binder or folder to keep track of assignments and progress.
3. Check-in with the teacher and make sure the learning objectives are being achieved.
The truth is that some students may fall behind on learning objectives or their coursework. To avoid or mitigate this, parents can check in with teachers (via e-mail) regularly and monitor academic progress. Sometimes the work is too difficult or too easy, which means they might benefit from supplemental support such as tutoring.
4. Monitor student engagement.
According to research studies, pop quizzes and student relatedness have been correlated with higher student intrinsic engagement during remote learning (Garbe, et. al, 2020). Some things that can support engagement include creating reward systems such as fun time after they have completed their online remote coursework.
5. Play games that develop knowledge.
Fun activities like board games and anagrams are some great ways to supplement remote learning. Online games on websites such as GoNoodle have some great fun activities that can be used as an incentive for completing remote coursework.
6. Become familiarized with online teaching platforms.
Online teaching platforms such as Zoom are one of the major ways teachers have adapted to using technology for remote learning. Given the number of people using the platform, it would be helpful to just make sure the teaching platform is fully functioning and works on your child's computer.
7. Teach only as needed.
Older kids can help their younger siblings achieve learning objectives or they can help with homework. In this way, they reinforce what they already learned in previous years. If a student is having difficulty grasping a concept, parents can reach out to their child's teacher so the student can get extra assistance. It may be more beneficial to consult tutoring services if a parent is not fully equipped to teach a subject or if a student has a learning disability.
8. Create a learning space:
Designate a quiet learning space with all the necessary supplies for learning and access to Zoom or another online learning platform. Put away cell phones and other distractions.
9. Check in to monitor academic progress.
There are many ways to monitor student academic progress. A direct way would be to track student progress in a folder and an indirect way would be to simply invite your kids to teach you what they have learned that day or that week.
10. Encourage social-emotional learning by nurturing student relationships and interactions to support student relatedness.
Social-emotional learning refers to all the things kids learn and harness in a school setting or classroom. Social-emotional learning includes communication, cooperation, empathy, emotional regulation, and impulse control. Katzman and Stanton (2020) have noted the importance of SEL and its influence on learner success. One way to foster this at home is by having a student keep a journal on how they are feeling every day or simply just touching base with them regularly. Set online play dates with their friends on a regular basis. Reach out to us to find out about other online games and apps that can be used to foster social-emotional learning.
For more information, parents can also check out this book called "The Distance Learning Playbook for Parents: How to Support Your Child's Remote Learning" by Rosalind Wiseman. This book has been written by a few authors with over 20 years of experience teaching. At the Reading Room LLC, our mission is to support students to enjoy reading and get them to read at or above their grade level. Our tutors are equipped with resources to support students and parents on their remote learning experience. Feel free to contact us to set up a tutor session or an initial assessment.
Garbe, A., Ogurlu, U., Logan, N., & Cook, P. (2020). Parents' Experiences with Remote Education during COVID-19 School Closures. American Journal of Qualitative Research, 4(3), 45-65. https://doi.org/10.29333/ajqr/8471
Katzman, N. and Stanton, M. (2020). The Integration of Social Emotional Learning and Cultural Education into Online Distance Learning Curricula: Now Imperative during the COVID-19 Pandemic.
Wiseman, R., Fisher, D., Frey, N., & Hattie, J. (2020). The Distance Learning Playbook for Parents: How to Support Your Child′s Academic, Social, and Emotional Development in Any Setting (1st ed.). Corwin.